Jody Russon Assistant Professor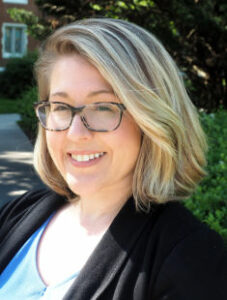 Ph.D., Drexel University
M.A.,Towson University
B.A., University of Delaware
Approved Supervisor, American Association for Marriage and Family Therapy

Board Approved Supervisor for LMFTs and LPCs, Virginia

Licensed Marriage and Family Therapist, Virginia & Pennsylvania

Certified Supervisor & Trainer, Attachment-Based Family Therapy

Instructor, Person-of-the-Therapist
About Jody:
Dr. Russon is a translational scientist contributing to the fields of family therapy and suicidology. Community-engaged research (CEnR) is a fundamental value of her approach to science, practice and education.
Dr. Russon's line of research specifically focuses on the adaptation, dissemination and implementation (AD&I) of suicide interventions and prevention strategies. The purpose of AD&I science is to translate, spread, and increase the quality of empirically supported interventions to reduce the research-practice gap in the health professions. Dr. Russon has two, overlapping areas of research that inform her AD&I efforts to address suicidality and associated mental health symptoms among youth (adolescents and young adults) vulnerable to suicide:
First, her primary research area is centered on adapting and testing empirically-supported, suicide intervention models. One model, attachment-based family therapy (ABFT; Diamond, Diamond & Levy, 2014), is among the few empirically supported approaches designed for youth with depression and suicidal thoughts and behavior. To date, ABFT is also the only youth suicide treatment modified for sexual and gender minority youth and the community centers that serve them. Dr. Russon's intervention research aims to further adapt and test ABFT for SGM youth and disseminate the model nationally, in community-based services. There is a higher incidence of suicide attempts among those with eating disorders compared to the general population. As such, Dr. Russon is also conducting research focused on adapting a family approaches for the treatment of bulimia spectrum disorders among adolescents.
Second, in order to promote her AD&I efforts, Dr. Russon has established another research area centered on understanding the needs of systems interfacing with youth with suicidal thoughts and behavior. In an effort to engage with these systems, she conducts systems-level research to prevent suicide by a) identifying youth at risk, b) understanding help-seeking and service utilization, and c) examining the effectiveness of screening and triage approaches in the context of health and educational systems.
Dr. Russon operates a transdisciplinary research initiative, called the Alliance for the Study of Suicide Prevention and Intervention through Relationship Enrichment, ASPIRE. The goal of ASPIRE is to develop and study prevention and intervention strategies targeting mental health distress among populations vulnerable to suicide. The approaches studied by ASPIRE aim to strengthen relationships, empower communities, and develop collaborative partnerships.
Dr. Russon's teaching and supervisory experience is focused on applied skills for family therapy researchers and practitioners. She has a particular interest in mixed methods research (MMR) and has developed a doctoral-level course to train students to conduct MMR. Dr. Russon is an American Association for Marriage and Family Therapy Approved Supervisor and a Person-of-the-Therapist (POTT; Aponte & Kissil, 2016) instructor. She is also a certified trainer and supervisor in ABFT and has received advanced clinical training in emotionally focused therapy for couples (EFT; Johnson, 1996, 2019).
Selected Publications:
Russon, J., Weissinger, G., Rivers, S., Ruan, L., & Diamond G. (in press). Mental health symptoms and suicide risk amongst LGBTQ youth presenting in residential care. Archives of Suicide Research.
Russon, J., Allen, K., Few-Demo, A., Case-Pease, J. (in press). Using critical family theorizing and intersectional feminist praxis to navigate reflexive conversations on race and power in academic settings. Journal of Family Theory & Review.
Frey, L., Hunt, Q., Russon, J., & Diamond, G. (2021). Family-based treatments for youth at risk for suicide. Journal of Marital and Family Therapy. https://doi.org/10.1111/jmft.12568
Russon, J., Morrissey, J., Dellinger, J., Jin, B., & Diamond, G. (2021). Implementing attachment-based family therapy for depressed and suicidal adolescents and young adults in LGBTQ+ services: Feasibility, acceptability and preliminary effectiveness. The Journal of Crisis Intervention and Suicide Prevention.
Russon, J., Smithee, L., Simpson, S., Levy, S., & Diamond, G. (2021). Demonstrating attachment-based family therapy for transgender and gender diverse youth with suicidal thoughts and behavior: A case study. Family Process, 1-16. https://doi.org/10.1111/famp.12677
Levy, S., Scott, S., Russon, J., & Diamond, G. (2021). Attachment-based family therapy in the age of telehealth and COVID-19.  Journal of Marital and Family Therapy, 47(2), 440-454. https://doi.org/10.1111/jmft.12509
Morgan, A., Landers, A., Simpson, J., Russon, J., Case Pease, J., Dolbin-MacNab, M., Bland (Hein), K., & Jackson, J. (2021). A systemic approach to the transition to teletherapy in marriage and family therapy training settings during COVID-19: What do the data tell us? Journal of Marital and Family Therapy, 47(2), 320-341. https://doi.org/10.1111/jmft.12502
Russon, J., Washington, R., Machado, A., Smithee, L., & Dellinger, J. (2021). Suicide among LGBTQIA+ Youth: review of the treatment literature. Aggression and Violent Behavior. https://doi.org/10.1016/j.avb.2021.101578
Russon, J., Mensinger, J., Herres, J., Shearer, A., Vaughan, K., Wang, S. B., & Diamond, G. S. (2019). Identifying risk factors for disordered eating among female youth in primary care. Child Psychiatry & Human Development, 50(5), 727-737. https://doi.org/10.1007/s10578-019-00875-8
Diamond, G. S., Kobak, R. R., Krauthamer Ewing, E. S., Levy, S. A., Herres, J. L., Russon, J. M., & Gallop, R. J. (2019). A randomized controlled trial: Attachment-based family and nondirective supportive treatments for youth who are suicidal. Journal of the American Academy of Child and Adolescent Psychiatry, 58(7), 721-731. https://doi.org/10.1016/j.jaac.2018.10.006