Jody Russon Assistant Professor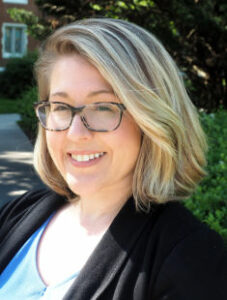 Ph.D., Drexel University
M.A.,Towson University
B.A., University of Delaware
Approved Supervisor, American Association for Marriage and Family Therapy

Board Approved Supervisor for LMFTs and LPCs, Virginia

Licensed Marriage and Family Therapist, Virginia & Pennsylvania

Certified Supervisor & Trainer, Attachment-Based Family Therapy

Instructor, Person-of-the-Therapist
About Jody:
Dr. Russon is an Assistant Professor in the Department of Human Development and Family Science. She is a translational scientist contributing to the fields of family therapy and suicidology. Community-engaged research (CEnR) is a fundamental value of her approach to science, practice and education.
Her line of research specifically focuses on the adaptation, dissemination and implementation (AD&I) of suicide interventions and prevention strategies. The purpose of AD&I science is to translate, spread, and increase the quality of empirically supported interventions to reduce the research-practice gap in the health professions. Dr. Russon has three, overlapping areas of research.
First,

her primary research area is centered on adapting, testing and disseminating family-based suicide treatment models for underserved youth populations in the healthcare system, particularly LGBTQ+ adolescents and young adults.

Second,

in an effort to better engage with the systems interfacing with those with suicidal thoughts and behavior, she is establishing another line of research to implement screening and triage approaches in these systems.

Third

, her final area of research contributes to the others by examining factors associated with help seeking and service utilization among adolescent and young adult populations.
To support these efforts, Dr. Russon operates a transdisciplinary research initiative, called the Alliance for the Study of Suicide Prevention and Intervention through Relationship Enrichment, ASPIRE.
Dr. Russon's teaching and supervisory experience is focused on applied skills for family therapy researchers and practitioners. She has a particular interest in mixed methods research (MMR) and has developed a doctoral-level course to train students to conduct MMR. Dr. Russon is an American Association for Marriage and Family Therapy Approved Supervisor and a Person-of-the-Therapist (POTT) instructor. She is also a certified trainer and supervisor in Attachment-Based Family Therapy (ABFT) and has received advanced clinical training in emotionally focused therapy for couples (EFT).
Selected Publications:
Diamond, G.S., Kobak, R., Krauthamer Ewing, E.S., Levy, S.A., Herres, J., Russon, J., & Gallop, R. (2019). A randomized controlled trial: Attachment-based family and nondirective supportive treatments for youth who are suicidal. Journal of the American Academy of Child and Adolescent Psychiatry, 58(7), 721-731. https://doi.org/10.1016/j.aac.2018.10.006
Ibrahim, M., Jin, B., Russon, J., Kobak, R. & Diamond, G. (2018). Predicting alliance for depressed and suicidal adolescents: The role of perceived attachment to mothers. Evidence-Based Practice in Child and Adolescent Mental Health, 3(1), 42-56. https://doi.org/10.1080/23794925.2018.1423893
Russon, J., Mensinger, J., Herres, J., Shearer, A., *Vaughan, K., Wang, S. B., & Diamond, G. S. (2019). Identifying risk factors for disordered eating among female youth in primary care. Child Psychiatry & Human Development, 50(5), 1-11. https://doi.org/10.1007/s10578-019-00875-8
Ibrahim, M., Russon, J., Levy, S., & Diamond, G. (2018). Promoting parental acceptance of bisexuality: A case study of attachment-based family therapy. Journal of Family Psychotherapy, 29(3), 223-251. https://doi.org/10.1080/08975353.2018.1427401
Shearer, A., Russon, J., Herres, J., Wong, A., Jacobs, C., Diamond, G.M., & Diamond, G.S. (2018). Religion, sexual orientation, and suicide attempts among a sample of suicidal adolescents. Suicide and Life Threatening Behavior, 48(4), 431-437. https://doi.org/10.1111/sltb.12372
Diamond, G., Russon, J., & Levy, S. (2016). Attachment‐based family therapy: A review of the empirical support. Family Process, 55(3), 595-610. https://doi.org/10.1111/famp.12241
Shearer, A., Russon, J., Herres, J., Atte, T., Kodish, T., & Diamond, G. (2015). The relationship between disordered eating and sexuality amongst adolescents and young adults.  Eating Behaviors, 19, 115-119. https://doi.org/10.1016/j.eatbeh.2015.08.001
Russon, J. & Schmidt, C. (2014). Authenticity and career decision-making self-efficacy in lesbian, gay, and bisexual college students. Journal of Gay and Lesbian Social Services, 26(2), 207-211. https://doi.org/10.1080/10538720.2014.891090