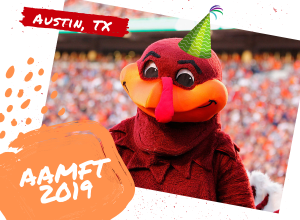 Are you attending the 2019 American Association for Marriage and Family Therapy Conference?  Would you like to connect with fellow Hokies?  Learn more about the program?  Here's where you can find us…
» To learn more about the MFT program area, visit our table at the Spotlight MFT Reception on Friday, August 30 from 6pm to 7:30pm. You'll be able to meet the faculty and some of our current doctoral students.

» This year, we're celebrating the program's 40th birthday!  Show your Hokie Pride on Friday, August 30 by wearing your best Hokie gear.  Also, grab a "VT" sticker for your name badge from one of the MFT core faculty.
» Want to see your fellow Hokies in action? Our MFT core faculty and current students are involved in 7 sessions and research discussions during the conference.  Our program alumni are leading 19 sessions and research discussions.  Look for the "VT" stickers on their name badges.
See you in Austin!